Sam Fai
This is a free torch/flashlight application that can use 3 light sources in your blackberry: LCD screen (it will increase the brightness to maximum), LED (it will turn it into bright white), and Flash Camera (only works on device that have Flash Camera). You can choose to light one, two, or all of them.
Sometimes the BlackBerry LED light is stuck blinking in certain color. You can use this app to "unstuck" it, just turn on the LED and turn it off again.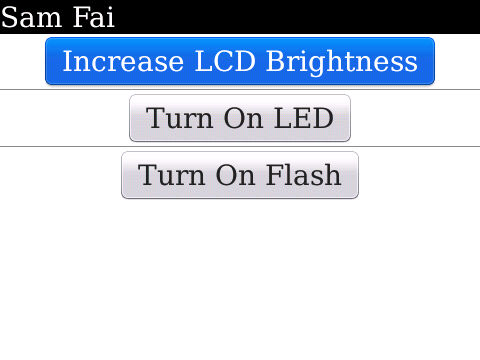 Only available for OS 5.0+ for hardware with camera flash.
If you have any question, you can send it to yohanes@gmail.com.
Latest version: Version 1.2 Download OTA for OS 5.0+
Old Version 1.1 Download OTA for OS 5.0+
---
Copyright © 2010 Yohanes Nugroho